In an effort to better understand and improve the health status of populations in the Ozarks, organizations in the region formed the Ozark Health Commission. Participants in the commission included Burrell Behavioral Health, CoxHealth, Freeman Health System, Mercy and several local health departments. It's the largest collaboration in the region, spanning four states—Missouri, Oklahoma, Arkansas and Kansas—51 counties and four hospital systems.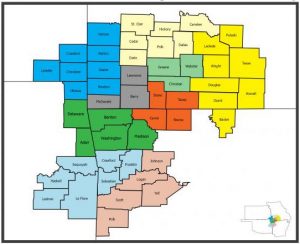 After completing the Regional Health Assessment and identifying health priority areas, Springfield-Greene County Health Department turned to Community Commons to build a reporting tool that would keep the community informed of the progress they're making. Julie Viele, who coordinated the implementation of Community Commons for the Springfield-Greene County Health Department discusses the project below. 
Hi Julie, thanks for talking with us. Could you talk a little about the Springfield-Greene County Health Department and the department's work with Community Commons?  
In Greene County, we serve a population of 288,000 people. We provide a wide variety of services, from food inspections to smoking cessation classes; nutrition programs to health education within our vision helping people live longer, healthier, happier lives.   We became very familiar with Community Commons as we collected our secondary data for the regional health assessment. We found it to be a very useful tool that was community-friendly that made it easy to pull data.  
Could you talk about the Regional Health Assessment process and how that is guiding your strategy moving forward? 
The regional health assessment included 51 counties, four states and four hospital systems. From the assessment, we were able to identify three priority areas, which were pretty universal throughout the 51 counties. They include lung disease, cardiovascular disease and mental health. From those three priority areas we identified five common threads:
Access to appropriate care

Social determinants of health

Tobacco use

Mental health 

Physical activity and nutrition
Based off these five common threads, we developed our local community health improvement plan (CHIP), which we are currently working on the objectives that were identified in the plan.  
What kind of data was used for the Regional Health Assessment and CHIP? 
For the regional health assessment, we used over 150 indicators, which helped us determine our priorities and common threads. The majority from Community Commons.  From the list of 150 indicators, we identified specific indicators for the five common threads, which are highlighted in the Springfield CHIP.
Do you intend for it to be used by community members, so they can see for themselves? 
We incorporated maps and comparison dials into the different pages that address the common threads so community members can play with the data and make sense of it.
How does having a hublet fit into your overall strategy of community health improvement? 
We are using the Ozarks Health Commission hub and the CHIP hublet as a reporting tool to our community, so the community knows what we're working on and how we are progressing on the objectives within the health improvement plan. We want to keep the community informed and make them feel like they have a part in our community's health. We are a very data-driven department, so our hope is to provide the data to help community partners make healthier decisions, which will help led to a healthier community.

You might also like