This is the third in a four-part series about the 2014 Hunger Report produced by Bread for the World. Each installment will focus on one of the four steps outlined to end hunger by 2030.
Bread for the World has a goal of ending hunger in America by 2030. In our initial feature about their 2014 Hunger Report, we discussed the first step of the plan, which is achieving full-employment for America's workers. Our second feature focused on getting a fair deal for those workers. Now we'll look at America's safety net and what it means to ending hunger. 
Step 3 to Ending Hunger: Strengthening the Safety Net
Putting Americans back to work at jobs that pay fair wages and allow for family flexibility is key to ending hunger, but there are a vast number of people in this country that simply cannot work and depend on a safety net of assistance resources to feed themselves.
According to a 2013 report from the Center on Budget and Policy Priorities, two-thirds of the population using the Supplemental Nutritional Assistance Program (SNAP) are children, elderly, or disabled. The report estimates that without programs like SNAP, Social Security, and the Earned Income Tax Credit, the 2011 US poverty rate would have been nearly twice as high.
There are also people in our society that face hunger with little chance for improving their situation. In many states, laws exist that keep those with certain criminal records from receiving SNAP or welfare assistance while at the same time job applications often include questions about prior convictions that make acquiring employment nearly impossible.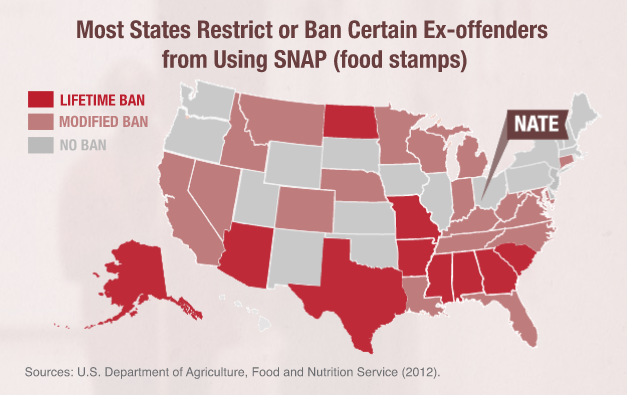 Meet Nate
Nate was charged with felony theft for passing bad checks. He served his time in prison and was released at age 20. For the next three years he searched unsuccessfully for a job that would help him take care of his family. Luckily, Nate lives in Ohio which repealed some of the laws that banned ex-offenders from federal assistance. Nate was able to receive SNAP benefits. "Food stamps, for me, it helped me out. I didn't have to worry about how I was going to do some devious things in order to put some food on my kid's table," said Nate. Hear more about his story.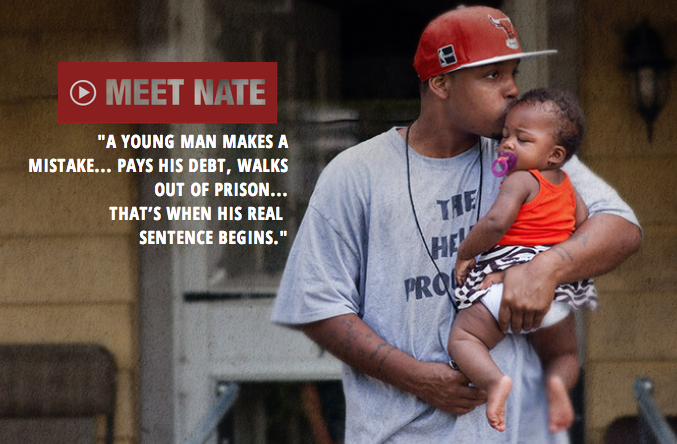 "Ending hunger means ending discrimination and having a safety net wide enough to protect those who are prevented from working. That means fortifying front-line nutrition programs like SNAP (food stamps) that help people get back on their feet sooner when they can't find work, and supplement basic needs for people like the elderly and disabled who simply can't work."–The 2014 Hunger Report
Key Facts:
Nearly two-thirds of working-age adults who experience consistent poverty—more than 36 months of poverty during a 48-month period—have one or more disabilities.
The poverty rate for women over age 65 is approximately twice the rate for men over 65.
Half of SNAP recipients are children.
The average SNAP participant leaves the program after 10 months.
If Enough People Demand Something
Budget cuts will soon enter the political arena again and it is up to caring, active Americans to make sure legislators know that we value a safety net system that keeps children, seniors, and the disabled from going hungry. The report makes the following policy recommendations:
Abolish laws that prohibit people with criminal records from receiving public benefits and that make it hard for them to get jobs and earn an honest living.
Establish an employment program that targets individuals with significant barriers to work so that they are able to gain work experience, build skills, and improve their long-term prospects for employment.
Guarantee every child a high-quality education from Pre-K through grade 12 and assure critical benchmarks are reached.
Increase income assistance for people with disabilities who cannot work; provide better support to those who can and want to work.
Improve SNAP outreach to low-income seniors; ensure that there is sufficient funding to deliver meals to all those who are homebound and in need.
Support for safety-net programs and the consistent building of political will to end hunger is key. The following maps and data visualizations can help strengthen your case for policy changes.
SNAP Outreach for Seniors
This map shows the number of Seniors living in Harney County, Oregon. By clicking on the designated geography in any of our interactive maps, a box with metadata opens to give you more in-depth statistics. This data shows that there are 919 households in this county with Seniors age 65+.
Seniors have a historically low rate of participation in SNAP programs for a variety of reasons, some of which include stigma and fear of dependence. That can come from lack of understanding on how the program works and what poor nutrition can do to quality of life. Those that lack transportation also lose out on using their SNAP benefits. Outreach programs can help inform Seniors about the benefits of SNAP and options for using it.
The following map shows the percentage of households with Seniors receiving SNAP along with SNAP retailer and Farmer's Market data by location. The metadata shows that 254 Senior households are using SNAP benefits, or just under 21percent. It also shows how far some Seniors may live from any SNAP retailer. Click on the map and zoom to your location to see how it looks in your community.
Our maps are popular for exploring how different community assets and disparities are clustered or spread in an area. The Map Room allows you to easily create these interactive maps using any of the thousands of data layers we have available for you.
Other data layers that are related to safety net resources and can be mapped include:
households with children receiving SNAP
disabled population by age group
households with Seniors living alone
WIC participants and redemptions
Strengthening the safety net is the third step to ending hunger in America. It can be achieved and Community Commons is proud to provide useful, time-saving tools that can help make it happen. Stay tuned for our final installment of the 2014 Hunger Report where we discuss Partnerships for Ending Hunger.
You might also like