Warmer weather often brings new resolve to eat healthy. Unfortunately, good intention can be sidetracked when mid-afternoon hunger leads to a trip to the vending machine and the only options are candy, chips, and sugary beverages.
According to a 2010 report by the Snack Food Association, about 74% of consumers are trying to eat healthier, with about 65% eating specific foods to lose weight. Sales of healthier snacks are outpacing traditional snack foods by 3 to 1, yet the majority of vending machines still contain mostly junk-food.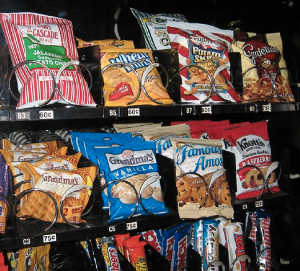 The National Alliance for Nutrition and Activity (NANA) is ready to help workplace environments tackle this issue in 2013. They recently created a set of
model food and beverage vending machine standards
and well as a
model policy
for helping implement the standards.
Update!
Two new documents are now available: a
product list
 of vending foods that meet NANA guidelines and a
revenue fact sheet
that outlines statistics on the positive financial effects of healthy vending.
Profit Loss Issues
One of the biggest push-backs to getting healthier foods in vending machines is the fear of losing money. In 2009 the Missouri group Nutrition and Physical Activity Program for the Prevention of Obesity and other Chronic Diseases (NPAO) initiated a pilot project to stock vending machines healthier foods so that it could be determined if healthier snacks and food really did produce lower profits.
The Healthier Vending pilot project successfully showed that stocking healthier items actually increased profit for the vendor and there was sustained demand for the healthier products. Many employees responding to a post-survey six months after the kickoff reported continued selection of the healthier items.
Success Stories
In Des Moines, Iowa the Meredith Corportation wanted to include healthier food options in
their vending machines, but knew that making a change in the food options was not going to be enough. Instead they implemented a full-scale campaign that involved labeling information, product sampling, and incentives. Sales of healthy foods increased by 60%.
In the state of Minnesota, vending machines in four Minneapolis-Saint Paul transit bus garages were stocked with healthier food and beverage items and the cost of those items was reduced to make them more appealing. The pricing and intervention study concluded that the greater availability and lower prices lead to more healthy purchses over an eighteen-month period.
Toolkits
The Nutrition Environment Measurement Survey-Vending (NEMS-V) has developed tools to evaluate worksite vending environments. Their Criteria for Coding Foods uses a stop-light model to rate foods and drinks based on their nutritional profiles. RED foods are not as healthy while GREEN foods are the best options.
ChangeLab Solutions offers training and advice when it comes to drafting vending machine policy language and starting a healthy vending campaign.
That state of California's Department of Public Health also offers sample vending machine food and beverage standards. Their materials list vending machine companies that offer healthy selections to fill machines.
Map Data
Community Commons offers the following Rate of Obesity Among Adults map that can be used to create GIS data for your community.
Industry Response
The National Automatic Merchandising Association (NAMA) created the Fit Pick program to help schools and workplaces identify products that meet specific nutrition guidelines. It consists of a toolkit for vendors to help them implement health-option policies, and resources that include stickers that are placed in front of qualifying products, thin clings that explain the nutrition standard, coin slot stickers and round stickers to help educate consumers.
The American Beverage Association is slowly rolling out a new program called Calories Count, in which the ABA will voluntarily place calorie counts on soda machine labels. The program will begin in Chicago and San Antonio municipal buildings but is expected to go nationwide in by the end of  2013.
Read our Guest Blog: Tired of the Same Old Vending Machine Junk?
You might also like